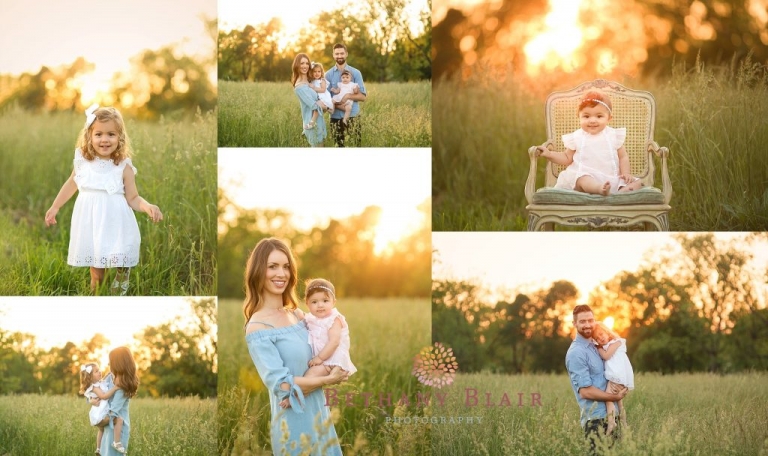 Thank you for considering me as your family photographer. As a wife and mom, I know how important it is to capture your family moments. From the kiss you sneak with your love to the snuggles and laughter we will capture with your children, I look forward to capturing timeless, beautiful images for you.
All family sessions take place in the 45 minutes before sunset. This time changes throughout the year and will be officially decided upon when booking. These take place in a field in either Rogers or Bentonville. I suggest muted, neutral colors for your wardrobe. I know, late sessions can be tricky with little ones but I have had wonderful success as long as your littles have been given a late nap and plenty of snacks. All sessions take place when the sun is out. If the sky is grey or overcast on the day of our session, it will either be rescheduled or refunded.
 Golden Hour Family Session on location: $575 plus tax (covers session+ all digitals)
45 minute session
Variety of posed and un-posed images
Minimum of 35 digital images (average 50) delivered via direct download or usb and a personal online gallery to show family and friends
Styling consultations upon request
Immediate family only, pricing is not for extended family sessions
Ability to order high quality print products if desired 20% off
Professional Print Product Add-ons:
I believe in printing your image and the quality from my professional print lab is unmatched. I would love to print some wall art for your home.
Prints
(Mounted on styrene)
11×14: $65
16×24: $120
20×30: $175
30×40: $275
Fine Art Canvas:
(Ready to hang)
16×24: $275
20×30: $375
30×40: $425
Albums:
5×7 album of your 20-25 images: $185
8×8 : $350
10×10: $550
My current gallery turnaround is 2-3 weeks from the time of the session. Galleries are viewable for 1 week
If you have any further questions about pricing or information in regards to your session please don't hesitate to contact me.
*Please note that I DO NOT provide any unedited images to my clients.*All sessions include reprint rights to mpix.com. Digital negatives are to be used for personal use only. Any use of your images for commercial or monetary gain is prohibited without the expressed written consent of Bethany Blair Photography.